Dedicated to Alvin Lee and Ten Years After
Click here to go to JAPANESE page.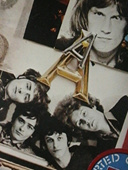 Ten Years After
ALVIN LEE: Guitar and Vocals
LEO LYONS: Bass
RIC LEE: Drums
CHICK CHURCHILL: Keyboards
Welcome to the Going Home Page !
Formed in Nottingham, and debuted in 1967, Ten Years After is the one of most important British Rock bands to contribute to the Rock music scene when ROCK was really ROCK. They achieved superstar status through their famous 11-minute I'm Going Home at the Woodstock Festival in 1969. The albums they behind still shine as a LEGACY in the music scene. Their longevity continues to sustain a fresh and exciting sound well beyond their time and genre.(Blues, Rock'N'Roll, Boogie, Jazz, Classical, Psychedelic, Progressive, C&W, Heavey, Mellow.....and more)
It's obvious Alvin Lee became one of the most revered guitarists from the late 60's. And he is not only the greatest axeman with the fame FASTEST IN THE WEST, but also a soulful singer and a great song writer throughout both in TYA and his solo career!
---

Tim Hinkely's new album fetures Alvin's guitar
on a track called 'Heart and Soul' co-writen by Tim, Alvin and George Harrison!
For more info, please visit CD BABY. (Oct. 2003)

Alvin Lee & Mylon Lefevre/ON THE ROAD TO FREEDOM (1973)
has just released on CD with a bonus track from Repertoire Records.
Please visit alvinlee.com for details. (Sep. 2003)

ALVIN LEE & TEN YEARS AFTER BOOK !!!
- ALVIN LEE & TEN YEARS AFTER - VISUAL HISTORY by Herb Staehr -
visit here for more information.
---
Discography : Ten Years After / Alvin Lee / Compilation, Live, Singles /

Solo Works / Session / Omnibus / Videos etc.
Going Home Page MUSIC LINKS Alvin Lee &Ten Years After Related Links

Chronology of Ten Years After

Alvin's Guitars / Gibson ES335 etc.

Cover Versions by other artists

Reviews & Articles

Alvin Lee Guitar Archive : Signature Licks - Issue 1/ I'm Going Home-Part 1/ -Part 2

tab&lyrics: I'd Love to Change The World

Tour Report -May18&19 (1996)

Alvin Lee Fan Club Information / Latest News/ ...and some old News and Information

GUEST BOOK (now preparing) -old guest book

SPECIAL THANKS to: Ten Years After : Alvin Lee, Leo Lyons, Ric Lee, Chick Churchill
Toni: fans@alvinlee.com, davep@kreative.net, MrCraigo@aol.com, dougvach@mail.wincom.net, jaysonics@california.com, apacheco@mail.telepac.pt, helicop@ycs.ab.ca, SBander@aol.com, HRS28TYA@aol.com, dljone9@ibm.net, jun1107@mbox.kyoto-inet.or.jp, Benny: blund@xpress.se, romeo@s-direct.com, abif@netsix.com.br, moonbaby@serv.net, claudiam@conex.com.br, tapani.laiho@icenet.fi, devilla@agf.fr, pcasini@DAPE.AGR.UNIFI.IT, aramsay@uk.ibm.com, Tim: madkeys@yahoo.com
and many many TYA & Alvin fans !!

---
This page is always under construction.
If you have any comments or information, please mail to
izumi335@kh.rim.or.jp