---
Alvin's Guitars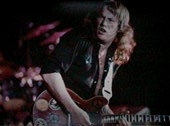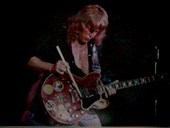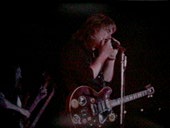 Ten Years Later '79/ Photographed by Craig Anderson
(CREATIVE VISUAL PHOTOGRAPHY)
---
Gibson ES335
.....As everyone knows, Cherry Red ES335 with stickers is Alvin's Trademark !! And the sounds, especially from the front pickup, are really fascinating.
With his ES335 from "In Flight"
"The reason it's still covered with the old stickers is because I once snapped the head off and when it came back from being repaired, they'd lacquered over the stickers! It's still my main guitar and I love 335s." (from STAR guitars published in '94 by MUSIC MAKER BOOKS in UK, including a lot of pictures of guitars and players.)

A single pickup is always mounted between two open humbucking pickups.

ES335: is the first 'semi-acoustic' guitar, commercially introduced in 1958.
Red became the colour for the ES335 in the 1960s.
In 1962 the dot fingerboard markers became small blocks.
'ES' stands for Electoric Spanish.
The ES335 with the dot fingerboard markers and a bigsby vibrate is able to be seen in the Woodstock video.
The ES345 seen in the back cover of the album 'Space In Time' is photograghed by Alvin himself.
ES345 is easily identified by its angled split-block fingerboard markers. It offered stereo and Vari-tone six-way selector.
Alvin uses a sunburst finish ES345 in the video "The Isle Of Wight Music Festival".

Some black and white cool photographs of Alvin with his 335 can be seen on a book called '50 Rock Guitarists'(photographs & text by ROBERT KNIGHT published in '95 by Shinko Music in Japan.

The most beautiful photo of his sticker covered 335 with comments is in 'GUITARS that shook the world' published by HAL LEONARD CORPORATION, '95 in the U.S.A. (GUITAR WORLD MAGAZINE PRESENTS).

Now, Alvin owns nine 335s : Big Red, a 12-string, one bass, two blondes, his stage guitar and three spares.
Photograghed by NICK KRAWCHUCK
---
Heritage ALVIN LEE 'signature'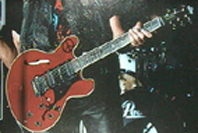 from a Heritage ad.
---
Others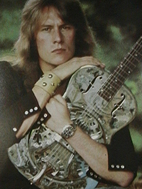 With a Dobro
According to The Hofner Book (Guitar~A History, '93, Gordon Giltrap & Neville Marten, published by IMP), Alvin got a Hofner SENNATOR and occasionally used it for recording.
<![if !supportLists]>· <![endif]>A Gretsch orange double cutaway Nashville also goes well with Alvin in the video clip of "Jenny Jenny"!! (featuring Clarence Clemons from the E Street Band) in the video "ROCKSPECTIVE".
---
If you have any other information about Alvin Lee's guitars,
please mail to
Izumi Tada
izumi335@kh.rim.or.jp
---

---