---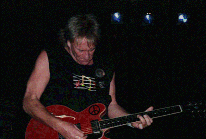 Alvin Lee from THE BEST OF BRITISH BLUES TOUR '96
Photo by Steve Bander
---
ALVIN LEE
"The Best of British Blues Tour U.S. '96"
at Ventura Theatre (May 18) and House of Blues (May 19)
---
How can I explain my feeling, but I finally saw Alvin's live stage!! One of my dream has come true!!!
I saw the shows at Ventura Theatre, CA and House of Blues at West Hollywood, Los Angeles. They had the same setlists and clues. After Eric Burdon's powerful stage, Alvin started the show with his song "Keep on Rockin' ".
Songs were: Keep on Rockin' / Long Legs / Hear Me Calling / Slow Blues in 'C' / I Don't Give a damn / Love Like a Man / I'm Going Home / (encore) Choo choo Mama / Rip it Up and two more songs with Eric Burdon...

I was very happy to see Alvin Lee play a Gibson ES335 (it looked like a reissue model of cherry flame top installed a tremoro unit, without a middle single-coiled pickup. Straight into a silver Marshall head: only one equipment I found was a compact digital delay.) Alvin's guitar works and vocals are much more energetic, exciting and excellent than I expected. He is still the GREATEST!! I was also very impressed by fantasitic musicians: Bozz Burrell, Micky Moody, Aynsley Dunbar, Tim Hinkley. It's the most exciting concert I've never seen before here in Japan.

What made me so impressed deeply as much as his show was the people there, especially Toni, JJ and Craig. It was only a three-day stay in the US, but I really enjoyed it. And I'd like to thank such wonderful people, and to have a lot of friends all over the world, through Alvin's great music!


Izumi Tada
---
If you have any comments, please mail to Izumi Tada
izumi335@kh.rim.or.jp


---