Butoh-sha Tenkei
/ Profile /
Profile
since 1981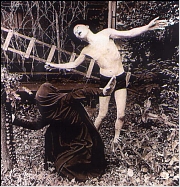 Tenkei was established by Ebisu Torii and Mutsuko Tanaka in 1981 and the company has produced many decent programs since then.

Both Torii and Tanaka belonged to Dairakudakan in early 70's when butoh started flourishing. The company is one of rigorous butoh troupes known to its uniqueness and superb skills and produced a masterpiece after another in the last few years.

Ebisu Torii, director, choreographer, and stage designer, has the reputation of being a free and whimsical dancer with a touch of pathos and humor.
On the other hand, Mutsuko Tanaka has a formidable pedigree as a solo-performer represented by A tale of Pomegranate (1984), A picture book of larvae (1992), Still Life (1999).

The company that consists of Torii, Tanaka and several young dancers is good at expressing the poetry of depth and a nightmarish fantasy and well received at home and abroad.

Nocturne, Tenkei's 1994 show, created new possibilities for the group by adding young dancers and resulted in widening its butoh-dramaturgy.
This production was first introduced overseas in 7 German and North American cities in 1996 and sent shock waves through the countries. Nocturne was held in high repute during its tour through 6 North American cities in 1997 and 1998 and 3 Canadian and North American cities in 1999.

The company produced its first program in two years, Kanata (In the distance) in November, 1999 and the production was introduced overseas in 2000.
ABOUT US
company's name

Butoh-sha Tenkei

address

#308 WelfareGreen-Minamisuna bldg.,
7-2-6, Minamisuna, Koto-ku, Tokyo,136-0076, Japan

e-mail

url

http://www.kh.rim.or.jp/~tenkei

studio

Tenkei's studio "TOT"

studio's address :

#15B Nakameguro bldg.,
1-5-10, Kamimeguro, Meguro-ku, Tokyo, Japan