Butoh-sha Tenkei
/ Articles
"
The Japan Times
", Jun.26,1999
"Still Life"
Tapping into the energy of 'Still Life'
GILLES KENNEDY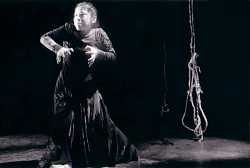 Mutsnko Tanaka premiered her "Still Life (Seibutsu)" June 18 at Nakano Terpsichore in Tokyo. This solo piece is one of the best examples of the kind of rigorous butoh choreography that is so successful overseas, and attracts grants and commissions at home and abroad. It also points to new possibilities paralleling her creative partnership with dancer/cho-reographer Ebisu Torii in the group Butoh-sha Tenkei. And in the flurry of last-minute productions in Tokyo the same week, including "Gri-zaille" and "The Rite of Spring" by H.Art Chaos and an improvisation solo by Toru Iwashita, Tanaka's disciplined artistry stood out.
This is to be expected, given Tanaka's formidable butoh pedigree. In 1973 she started dancing with Dairakudakan, the company that spawned so many major dance groups, including Sankai Juku, and established Butoh-sha Tenkei with Torii a little less than a decade later. Although the company was active in the ear]y days and has a sizable repertoire of decent productions, including a formidable interpretation of "Les Bonnes," it is only in the last few years that Tanaka has emerged phoenixlike on the performance scene. Butoh-sha Tenkei performed to wide acclaim last year and this February on extended North American tours, and more overseas performances are planned for early next year.

On a set dominated by three suspended cloth-bound ropes, Tanaka evolves from a hunched-over position into a mercilessly disciplined ascension of nervous, fidgeting fingers and unfolding of limbs. For a short-legged dancer, she achieves great, threatening height, based as much on her own technique as on the use of lateral lighting, to cast huge shadows on the back-drop. Her impassioned slowness leads to a grisly beauty as she turns with glycerined eycs, to reveal half of a pair of scissors tied to the back of her autumn-patterned evening ,dress. The implied violence behind the most significant prop in the production is enough. Subtle and delicate, Tanaka only needs to hint at a potential cruelty or a histopic violence.
Her use of the body is unusually chaste, even by modern dance standards. Her tongue flaps in a neutral manner in her mouth like a fish out of water, utterly desexualized. She sticks it out with a facility that other dancers display in pointing their toes, but with far more expression.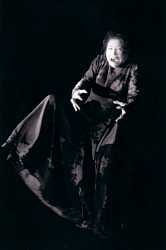 As she structures her ,detailed choreography in a series of twists and turns across the stage, a mercurial sliver of saliva drops, caught in the light. A mistake? An embarrassment? In butoh, it is an other indication of frailty, of how a minute detall expresses the vulnerability of the entire body. But Tanaka uses no shock tactics for the sake of a pseudo-underground value ---her art is too refined, too crafted for easy gimmicks.

With a noh stamping of her feet, she transforms her neutality into a threatening body, eyes agape and hands fanned out behind her head, to a score of electronic dissolnance the early Velvet Underground would have envied. She precedes the encore with a delicate, blushipg parody of a schoolgirl caught in the spotlight of attention, twisting awkwardly and uncomfortably against the backdrop. And right through this compact, 80-minute performance, Tanaka maintains the effortless poethy that is one of the hallmarks of her work.

Butoh performances, work-shops and seminars are a headlining attraction and a focus of academic, interest at festivals and confererices of the arts this summer in North America and Europe. The eternal question of what constitutes "real" butoh is predetermined at these events, as the art form increasingly mutates from a Japanese physicality to encompass Western ideas and philosophies.
Tanaka,is one of the few performers, and possibly the only female dancer, along with the retired Yoko Ashikawa, to be able to lay claim to the perpetuation of "real" butoh. But the category must widen to encompass, her work: In the hierarchy of pigeon-holing, she is a "real" stage presence first and foremost, gifted beyond any slender definition of her style of dance.